Community Development
Community Development Block Grant (TxCDBG) Program for Rural Texas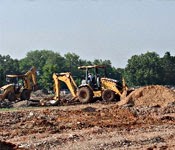 The US Department of Housing and Urban Development (HUD) provides federal Community Development Block Grant (CDBG) funds directly to states, which, in turn, provide the funds to small, rural cities with populations less than 50,000 and to counties that have a non-metropolitan population under 200,000 and are not eligible for direct CDBG funding from HUD. These small communities are called "non-entitlement" areas because they must apply for funding through any of the Texas CDBG programs. The primary objective of the Community Development Block Grant (CDGB) program is to develop viable communities by providing decent housing and suitable living environments, and expanding economic opportunities principally for persons of low to moderate income.
Fair Housing Information
Planning/Capacity Building Fund
Another important program under the TXCDBG is the Planning and Capacity Building Fund. This fund provides grant money for local planning activities. It has the same eligibility requirements as the CDBG fund. The planning process undertaken with these funds should result in an improved local capacity to identify long and short-term needs and to develop strategies to address identified community needs.
History of the TxCDBG Program
In the past each of Texas" 24 regional councils, including HOTCOG, had a Regional Review Committee (RRC) . Each RRC was comprised of 12 local elected officials, appointed by the Texas Department of Agriculture. The role of each Regional Review Committee was to participate in the process for determining regional scoring priorities for projects funded through the Texas CDBG's Community Development Fund, and was responsible for developing the objective scoring criteria.
Now there is a State Unified Scoring Committee.
Texas Department of Agriculture (TDA) is the states agency facilitator of the CDBG funds. TDA has given history of why they moved from having 24 RRC's to one SUSC.
"Texas CDBG and the CD Fund were created in the early 1980s. At that time, Regional Review Committees were established to assist with scoring applications within each region. RRC's frequently used subjective criteria to score projects on factors that could not be readily captured by statistics. Ex. local effort to address needs. In the early 2000s, HUD issued a finding and required the process to be more objective so that applicants could clearly understand and anticipate how an application would be scored. Since approx. 2007, RRCs have selected "objective and verifiable" scoring criteria for each region. Overall, the goals of the selected criteria are consistent across the state: allow all communities a chance access funding, specifically assist communities with limited resources, help those that help themselves. Under the existing system, each RRC created its own definitions and calculations for scoring. TDA then managed each region's scoring as one of 24 separate programs, not just during the initial application review but throughout the grant cycle. RRCs are valued locally, but participation is low. 9 of the 24 COGs formally declined to serve as the support staff for the RRC for the 2018 Program Year, and several other COGs have since indicated they were considering the same. In 2018, 12 RRC public hearings were attended by the bare minimum number of members, and 11 were unable to make quorum without the use of proxy attendees in place of members. In 2019 TDA began plans to replace the RRC process with a unified scoring process that preserves regional input. TDA conducted 10 informal public meetings, including 5 in Austin and 5 in communities across the state. After receiving stakeholder input, TDA developed the details of the unified scoring committee."
Unified Scoring Committee is composed of 24 members. The members compose of a representative from each Council of Governments or Planning Commission within the State of Texas.
The Unified Scoring Committee (USC) is responsible for developing the objective scoring factors for all regions used to prioritize applicants. The USC must establish the numerical value of the points assigned to each scoring factor.
The adopted 2021-2022 CD Unified Scoring Criteria link: https://www.texasagriculture.gov/Portals/0/Publications/RED/CDBG/CD/2021-2022%20Adopted%20Scoring%20Factors.pdf
Contact HOTCOG today to learn how you can benefit from the CDBG!