Economic Development District (HOTEDD)
Economic Growth IS The Heart of Texas!
Communities across the Heart of Texas region share a pro-business spirit. Strong partnerships between local businesses, economic developers, workforce training providers and local governments ensure that businesses who locate in the Heart of Texas get responsive support from their communities. Our office and our partners are ready to help review available sites and get you business started in the Heart of Texas!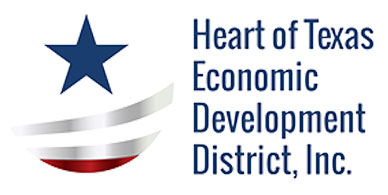 ---
Board Meeting Agendas and Minutes
| Date | Agenda | Virtual Link | Minutes |
| --- | --- | --- | --- |
| August 24, 2023 | Download Agenda |   |   |
| May 25, 2023 | Download Agenda |   |   |
| March 23, 2023 | Download Agenda |   |   |
| January 26, 2023 | Download Agenda |   |   |
|   |   |   |   |
| December 8, 2022 | Download Agenda |   |   |
| October 27, 2022 | Download Agenda |   | Minutes |
| August 25, 2022 | Download Agenda |   | Minutes |
| May 26, 2022 | Executive Committee Agenda & Packet |   | Minutes |
| May 26, 2022 | Agenda BOD |   |   |
| March 24, 2022 | Download Agenda & Packet |   |   |
| January 27, 2022 | Download Agenda |   | No Quorum / Meeting |
|   |   |   |   |
Economic Development District (HOTEDD)
2021 Board Meeting Agendas and Minutes
| Date | Agenda | Minutes |
| --- | --- | --- |
| December 2021 | Download Agenda | Download Minutes |
| November 2021 | Download Agenda | Download Minutes |
| October 2021 | Download Agenda | Download Minutes |
| September 2021 | Download Agenda | Download Minutes |
| August 2021 | Download Agenda | Download Minutes |
| July 2021 | Download Agenda | Download Minutes |
| June 2021 | Download Agenda | Download Minutes |
| May 2021 | Download Agenda | Download Minutes |
| April 22, 2021 | Download Agenda | Download Minutes |
| January 28, 2021 | Download Agenda | Download Minutes |
2020 Board Meeting Agendas and Minutes
| Date | Agenda | Minutes |
| --- | --- | --- |
| January 2020 | Download Agenda | Download Minutes |
| February 2020 | Download Agenda | Download Minutes |
| March 2020 | Download Agenda | Download Minutes |
| April 2020 | Download Agenda | Download Minutes |
| May 2020 | Download Agenda | Download Minutes |
| June 2020 | Download Agenda | Download Minutes |
| July 2020 | Download Agenda | Download Minutes |
| August 2020 | Download Agenda | Download Minutes |
| September 2020 | Download Agenda | Download Minutes |
| October 2020 | Download Agenda | Download Minutes |
| November 2020 | Download Agenda | Download Minutes |
| December 2020 | Download Agenda | Download Minutes |
---